Firmly established in many global markets as the ideal youth or "first time" powered off-road four-wheeler, the KFX 90 will officially appear in the UK for the first time in 2023.
Aggressively styled to echo larger, adult focused KFX quad machines – as well as drawing influence from the two-wheeled KX motocross range – there is no mistaking the updated and restyled frontal area of the lime green racing bodywork with its tall front fenders and Kawasaki branded handlebar pad, but that is just a small part of the story.
While junior dreams of all the terrain they will conquer…. and all the mud they will blast through, parents will zone in on some of the great safety features that create reassurance and allow safe and structured use of this, the first powered vehicle many of the riders will have ever operated.
To start with; the electric starter. The KFX90 is started by inserting and turning an ignition key (that at other times can be kept safe and "out of harm's way") plus there is a clever "starter lock-out" safety feature meaning the KFX90 can only be started with the brakes fully applied. And in terms of brakes, no corners are cut with handlebar levers left and right with the front drum brakes operated from the right lever plus a powerful hydraulic rear disc actuated by the left handlebar lever.
That's start and stop dealt with but what about Go? Utilising a compact and time-proven 89.9cc four-stroke , air-cooled engine, the KFX90 is CVT equipped meaning the only thing junior has to concentrate on is what appropriate speed to travel at and when to apply the brakes leaving the continuously variable transmission to do the rest. Incidentally, there is a throttle stop mechanism that can be set by an adult supervisor so that learning to operate the KFX90 can be done step-by-step with a grown up rationing the urge available.
Two other areas where style meets practicality are the footboards and the new lighting array. Deep non-slip material equipped footboards and compact bodywork styling ensure that the riders' feet remain inboard and safe at all times, while LED front accent lights and a large rear light are bright, easy to see and low maintenance.
Underpinned by a highly competent and rigid steel cradle chassis with high quality independent adjustable A-arm front suspension and swingarm rear suspension, the KFX is a great introduction to both powered off-road vehicles and Kawasaki. Bring on the Tougher Terrains and Bigger Adventures, the KXF90 is ready and waiting.
The KXF90 will arrive in dealers in late October and the SRP is £3,299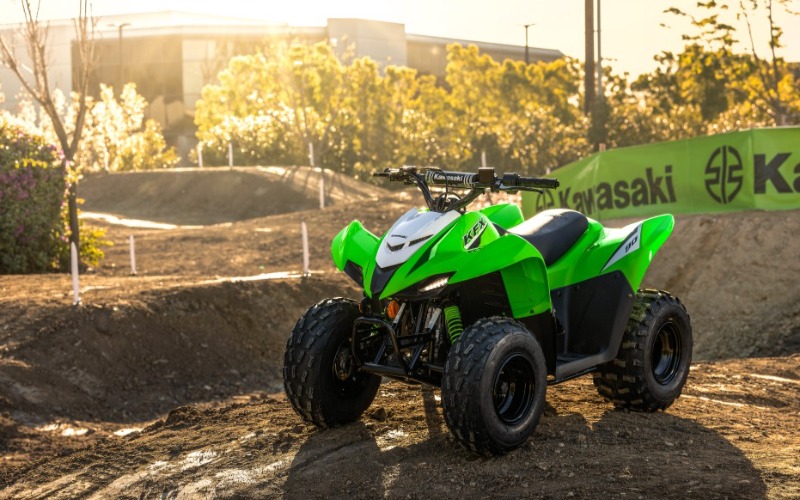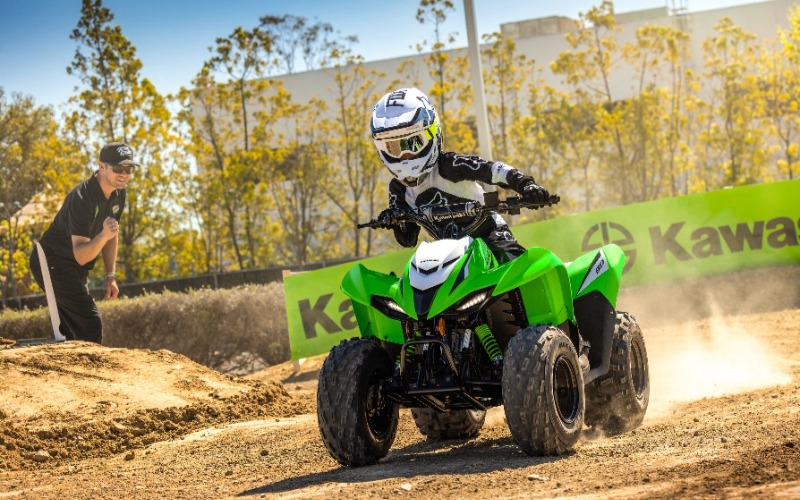 GASGAS LAUNCH NEW GENERATION 2023 TRIAL BIKES

NEW LOOK, IMPROVED RELIABILITY, BETTER RIDEABILITY!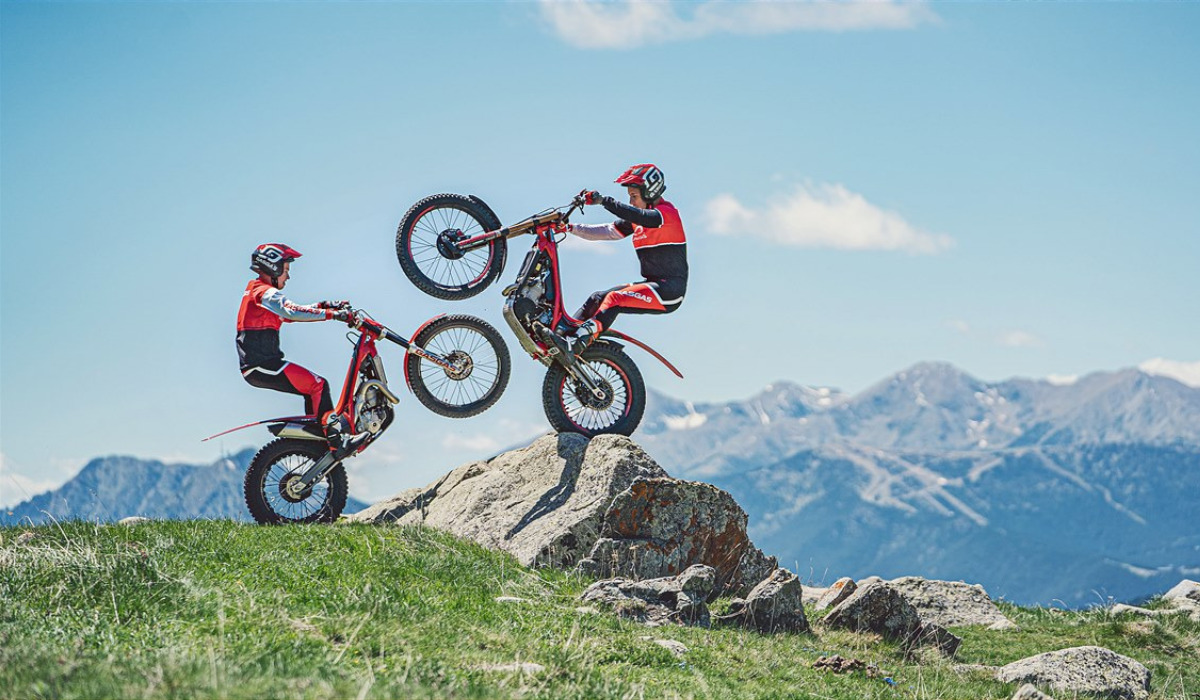 The time has come. After years of extensive development, the latest, and very best, generation of GASGAS trial bikes are now rolling off the production line in Terrassa, Spain. All six 2023 models – two TXT GP and four TXT RACING – set new standards for trial bike performance, guaranteeing a super-fun experience for riders of all abilities. Find yours at a GASGAS dealer near you!
New generation GASGAS trial bikes revealed in Terrassa, Spain
Long list of improvements across both TXT RACING and TXT GP ranges
2023 GASGAS trial models deliver improved reliability and rideability
Instantly recognizable, all 2023 GASGAS trial bikes are bold, modern, and more red than ever before. Looking the absolute business, beneath the brand-new bodywork is where the real developments have been made – to the red powder-coated frame. Featuring a long list of improvements, the complete TXT RACING and TXT GP line-ups both perform and handle better than ever. In addition to the striking new look and the improved handling, reliability of the super compact, high-performance 2-stroke motors has also been boosted. The end result, stronger more robust bikes that deliver super-fun, proven performance!
Technical Highlights – TXT RACING
New lightweight steel frame made from cast and tubular parts
New aluminum front hangers create strong connection between steering head and a larger skid plate
New bodywork with in-mold graphics and modern styling
New, stronger clutch cover improves durability
New footrest design for improved control
New exhaust and silencer with super-durable end cap
New, redesigned kick starter for improved starting
New cylinder head with interchangeable inserts for customized power
New, shorter and adjustable TECH forks offer 174.5mm of travel
NEKEN handlebars and RENTHAL grips
TECH shock allows for a personalized rebound and spring preload set up
BRAKTEC hydraulic clutch and brakes
Strong and lightweight wheels with CNC machined hubs
Michelin Trial X11 tires front and rear for maximum traction
Patented 4/6-speed transmission
Technical Highlights – TXT GP
New lightweight steel frame made from cast and tubular parts
Newly developed, black anodized aluminum front hangers create strong connection between steering head and a larger skid plate
New bodywork with in-mold graphics styled in line with GASGAS Factory Racing
New cylinder head with interchangeable inserts for customised power
New, redesigned kick starter for improved starting
New NEKEN handlebars and RENTHAL grips
New GASGAS Factory Racing inspired bar pad
TECH front fork with 174.5mm of travel and a KASHIMA coating for enhanced sensitivity
TECH TJ3 shock absorber is fully adjustable for riders to create a personalized set-up
CNC-machined aluminum triple clamps anodized in black
BRAKTEC hydraulic clutch and brakes
Strong and lightweight wheels with CNC machined hubs and a lightweight rear rim
Michelin Trial X11 tires front and rear for maximum traction
Patented 4/6-speed transmission
FIM approved rear brake disk
Thanks to serious investment made by PIERER Mobility AG, added to GASGAS' longstanding passion and commitment to trial sport, we've created our best trial bikes ever. This successful alliance between Europe's #1 bike building company and GASGAS, the trial specialists, has created a strengthened R&D team, a re-energized GASGAS Factory Racing trial team, and a clearer, more detailed testing process, which directly led to the creation of an all-new generation of GASGAS trial bikes.
Our goal heading into 2023 was simple – to build the best performing GASGAS trial bikes ever made! Besides retaining the finest, competition-focused aftermarket components, the TXT RACING and TXT GP ranges are pretty much all-new. Everything on the outgoing generation was thoroughly analyzed then refined or replaced with better, stronger, or lighter parts. The 2023 GASGAS trial line-up more than exceeds what we set out to do.
Developed over the last two years, the latest generation of GASGAS TXT RACING trial bikes deliver unrivaled performance with looks to match. Ensuring serious rideability has always been at the top of the list when building our much-loved TXT RACING range, which is now complete with even more quality components to lift the all-important fun-factor to impressive new levels for 2023. The four proven capacities – 300cc, 280cc, 250cc, and 125cc – are retained giving riders of all ages and abilities the chance to experience something very special.
The GP in TXT GP standing for Grand Prix, you know this model range means business. Capable of competing at the highest level straight from the showroom floor, the TXT GP is available in two classic displacement sizes – 300cc and 250cc. Designed specifically for the more serious riders out there, these are the very best 2-stroke trial bikes that money can buy.
The TXT RACING models will land in dealerships worldwide from late August 2022 with the TXT GP trial bikes arriving shortly after.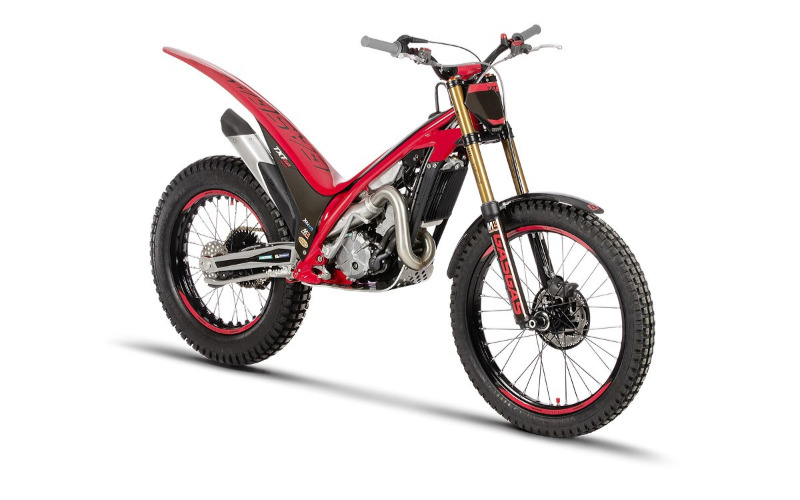 TXT GP 2023

The TXT GP range consists of the TXT GP 250 and 300.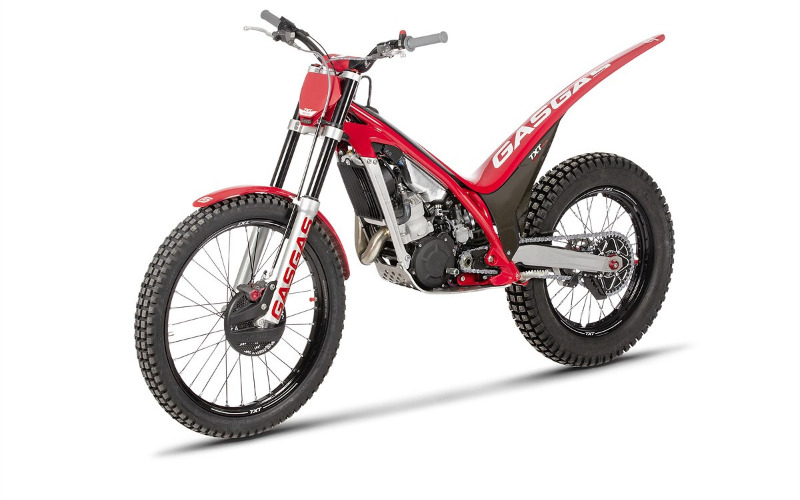 TXT RACING 2023

The TXT Racing range consists of the TXT Racing 125, 250, 280 and 300.
2023 KX250 increases available power while decreasing lap times
A competition reference machine, the Kawasaki KX250 is a pivotal bike in the Kawasaki range appealing to youth, intermediate, national and full class MX2 riders; each with their own special wants and needs. For 2023, the Kawasaki engineers have absorbed feedback from AMA Supercross, the MX2 class in the MXGP paddock and, closer to home, the All-Japan Motocross Championship. And the distillation of all that feedback has produced a machine that will ably answer the needs of its diverse customer base.
Chief among many changes are those in the engine group. Within the cylinder head a narrower pitch for the intake valves (37 mm to 35.5 mm), coupled with increased clearance at the valve seats, delivers increased cylinder-filling efficiency and improved combustion for increased peak performance. And to accurately fill that cylinder, the downdraft style intake duct is straighter plus the upstream injector is repositioned from above to below the duct. These changes further contribute to increased cylinder-filling efficiency which adds to peak performance. In terms of the valves themselves, they are smaller (ø32 mm to ø31 mm) contributing to cylinder-head/valve-seat reliability while enabling the tighter valve pitch while the piston crown is revised to match the valve size and pitch changes.
Aside from the greater engine performance due to these new efficiencies a longer exhaust header pipe (457 mm to 557 mm) offers increased low-mid range torque while the Akashi engineers also ensured that advanced ignition timing matches the engine changes. In terms of power feeling, a new magneto rotor with an increased moment of inertia (9.5 kg·cm2 to 10.0 kg·cm2) contributes to a more racer-friendly power delivery.
In terms of gears, ratios three, four, five and six remain the same but a longer first gear is introduced thanks to feedback from AMA Supercross and the second gear is also modified to make a smoother transition between first and third.
All Japan Motocross Championship experience resulted in changes to the front fork internals to deliver firmer compression damping that contributes to increased off-road performance without sacrificing ride comfort. While the fork spring rate itself is unchanged, a revised oil height contributes to optimised overall spring characteristics. The rear suspension now features firmer compression damping contributing to increased off-road performance without sacrificing ride comfort.
Other chassis upgrades include the adoption of a wider rear tyre for 2023 in the form of Dunlop's MX33 110/90-19 to compared to the 100/90-19 used last year while the footpegs are 5 mm wider (front-to-rear) and positioned 3 mm rearward to offer excellent grip, superb feel making it easier to weight the pegs plus they are lighter too.
Wise tuners will tell you that gradual refinement and upgrades that integrate seamlessly are often the route to racing success and that is just the route that Kawasaki takes for its quarter litre race class machine. Useable power, considered engine and chassis upgrades plus genuine podium potential, its got to be the new 2023 KX250 from Kawasaki.
Prices and availability will be announced soon.
Kawasaki unveils 2023 off road range
Covering the widest spectrum of off-road sport and fun riding, the 2023 Kawasaki off-road motorcycle range has just been announced. Catering for the needs of professional podium chasers, committed enduro riders, enthusiastic weekend competitors and those just starting on two-wheels, the range is certainly comprehensive.
Entry level and first championship riders will enjoy the KLX110R and KX65 respectively with the four-stroke KLX employing a 4-speed transmission with automatic clutch for stall-free shifting, it is the ideal machine to learn the craft of off-road riding on while the two-stroke KX65 is the stuff of legends, having won more races and championships than any proud father has had time to put up trophy shelves.
Further up the capacity scale – and sticking with the two-stroke theme – are the small and large wheel KX85 machines. They are liquid-cooled and feature Kawasaki's Uni-Trak suspension while benefiting from constant refinement keeping them competitive and reliable. And that reliability and durability is something that Kawasaki owners report back on often. No use being fast one day and in the garage with a stripped down, unreliable bike the next weekend. It's consistency that wins Championships. At the top end of the range is the mighty KX450, the most powerful production MX machine Kawasaki has ever manufactured. Created to dominate in the upper echelons of off-road sport, the mighty KX450 continues to carve a fearsome reputation heading up an impressive range of off-road machines.
In terms of enduro style machines, the successful KX450X and KX250X feature boldly in the new season range both ready to attack Hare & Hound style events plus organised enduro events that allow such machines to compete.
A new off-road season is always something to welcome and Kawasaki dealers across Europe are looking forward to answering the riding needs of a diverse audience. The green team is ready for the good times ahead in 2023 and prepared to do anything it takes to help Kawasaki riders achieve the success they deserve.
Prices and availability will be confirmed soon.
NEW GASGAS SM 700 AND ES 700

INTRODUCING A NEW FLAVOR TO THE STREETS WITH OUR VIBRANT NEW SINGLE-CYLINDER SUPERMOTO AND ENDURO BIKES
Say hello to the two new red-hot singles in town – the GASGAS SM 700 and the GASGAS ES 700! Introducing the playful and vibrant GASGAS character to the street, these high-performance siblings deliver a distinct, upright, and inviting approach to riding. With powerful single-cylinder motors, razor-sharp handling, and the latest rider aids, enjoying city streets and offroad adventures has never been so much fun!
GASGAS hits the streets with SM 700 and ES 700!
Confident and inviting offroad-inspired centered riding position
GET ON THE GAS with playful, big-bore, single-cylinder bikes
Just like with our offroad bikes, the introduction of the GASGAS SM 700 and the GASGAS ES 700 is all about bringing something a little different to the party, bringing bikes that put a smile on people's faces. With distinct, reliable, high-performance bikes that reflect our Spanish heritage and fun-loving personality, we welcome every kind of rider and encourage them to GET ON THE GAS!
Re-establishing ourselves as a leading force in offroad racing and riding during the last two years, in successfully introducing a complete offroad line-up we quickly went from being the new kids to picking up race wins and championship trophies. But it's not just the offroad world we're interested in. Just like we did in the dirt, we're again looking to re-establish ourselves, and have some serious fun on the street!
GASGAS street bikes benefit from an agile, high-performance technical base. Designed to deliver the very best handling, and constructed at the lowest possible weight, the chromium-molybdenum steel trellis frame ensures razor-sharp cornering and straight-line stability. Further enhancing the riding experience of these super singles, a die-cast aluminum swingarm offers just the right amount of flex to transfer the unrestricted power to the ground, while a 13.5 liter fuel tank integrated into the polyamide subframe keeps the center of gravity as low as possible. For total control and stability when drifting into the corners, the latest Bosch ABS systems and a PASC slipper clutch balances the bike perfectly for precise turning.
The beating heart of these bikes is undoubtedly the motors! Producing a peak 74 horsepower at 8,000 rpm and pumping out serious torque numbers, you can ride these versatile bikes your own way. Beneath the fresh red livery, which aligns these street models perfectly with our EC and MC line-up, there's plenty of hidden magic going on. State-of-the-art electronics always ensure precise throttle response with power on tap, while smooth shifting up and down the six-speed gearbox is assured thanks to the integrated quickshifter.
Complete with the latest EURO 5 compliant exhaust systems, advanced Ride Modes, and assembled with quality components throughout, the GASGAS SM 700 and ES 700 deliver pure riding pleasure, both on and off the road.
SM 700
Bringing single-cylinder fun to any daily commute, no matter where you're headed the GASGAS SM 700 is a big-bore Supermoto that guarantees riders will always arrive with a smile on their face! With punchy power that's perfect for lively urban street riding, the SM 700 delivers class-leading performance, dynamic on-road handling, advanced electronics, together with a vibrant GASGAS look. Getting from A to B has never been easier, more enjoyable, or more exhilarating!
CHECK OUT OUR MODEL PAGES FOR MORE INFORMATION
ES 700
Delivering versatility to the max to ensure every ride is an enjoyable one, on the ES 700 all riders can explore remote trails, enjoy mixed-surface adventures, or simply add a little more fun to their daily commute. A playful, do-it-all dual-sport performer, the GASGAS ES 700 mixes high-quality, street-legal performance with proven offroad capabilities to proudly bring the playful and vibrant GASGAS attitude to the street. And with its 13.5 liter fuel tank, comfortable riding position, high-spec equipment, and proven 74hp single-cylinder motor, there's nowhere the ES 700 won't go. How far you take it is up to you!
CHECK OUT OUR MODEL PAGES FOR MORE INFORMATION

To ensure riders get the very best out of the SM 700 and ES 700, GASGAS has a complete range of Technical Accessories and Apparel. Making customization and personalization super easy, GASGAS has all the technical parts needed to ramp up the protection, dial in the style, and unlock even more big-bore performance. With the Supermoto Suit and Supermoto Gloves, riders can ride hard knowing they're extremely well protected.
ALL-NEW GASGAS CONFIGURATOR!
Did you know you can build your dream GASGAS ES 700 or SM 700? Simply head over to the GasGas website, and using our clever configurator, add the parts and accessories you love to make the GASGAS ES 700 or SM 700 your own! Build it your way with the simple click of a few buttons. It's super effective and incredibly easy to use, so what are you waiting for? Get started!
GASGAS 2023 MOTOCROSS MODELS BREAK COVER

10 BIKE MX LINE-UP DELIVERS PROVEN ON TRACK PERFORMANCE AND A VIBRANT NEW LOOK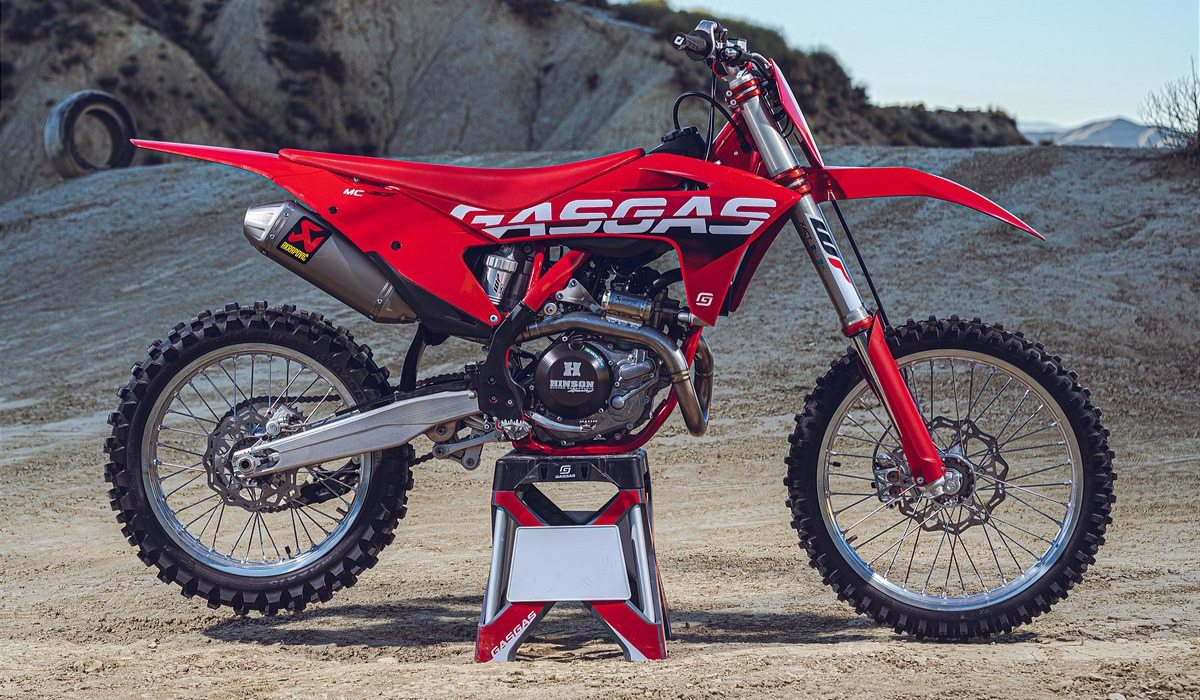 GASGAS is coming in hot for 2023 with a vibrant new look! Receiving a very loud, and very red, makeover, the entire GASGAS motocross range mixes serious on track performance with a fresh new look for continued weekend fun! Super capable in the hands of weekend warriors, high-level racers, and everyone in between, each of our 2023 models remains incredibly easy to ride, allowing all riders to push their limits and have some serious fun! Complete with the latest technology, WP suspension, and class-leading components, there's never been a better time to get on the gas with one of our proven motocross bikes. Check out the GASGAS MX models this March with the mini bikes arriving shortly after in May!
Fresh new look for GASGAS' awesome motocross range
10 bike line-up caters for riders of all ages and abilities
New models arriving from March at your local GASGAS dealer
GASGAS fully understands how important it is to ensure that every day be a good day when you're at the motocross track! Which is precisely why all our bikes are lightweight and compact, designed to deliver nimble handling and outstanding performance, as well as being loaded with quality, reliably components. But the really cool thing about each of our MX bikes is that they're super easy to ride and simple to maintain, allowing riders to focus on the fun part of owning a dirt bike – riding and racing it!
Catering for riders of all speeds and abilities, all five of our motocross models boast usable power that's perfect for beginners yet equally more than enough to ensure serious racers can hunt down trophies and titles. With two lightweight and super-fun 2-strokes to choose from – the MC 125 and MC 250 – and three awesome 4-stroke models – the MC 250F, MC 350F, and MC 450F – there really is something for everyone in our awesome full-size motocross range.
For the next generation of motocross thrill seekers, we've no less than five awesome mini bikes to suit kids of all ages and abilities. For the smallest and most courageous youngsters, there's our all-electric MC-E 5, and our petrol-powered, rev 'n' go MC 50 right alongside it. Then as children progress and grow, they can step up to the six-speed MC 65 before jumping up to our MC 85, which is available in both small and big wheel versions for unrivalled motocross fun! Check them out at your local GASGAS dealer from May.
So, to get on the gas for 2023, there's never been a better time to head down to your local GASGAS dealer and explore our complete range of dirt bikes. From our super-fun, high-revving MC 125 2-stroke through to the awesome, fire breathing MC 450F 4-stroke, each model boasts a vibrant new look that's uniquely GASGAS!
If you're looking to personalize any of our motocross models, we also offer a full range of GASGAS Technical Accessories and Apparel. For those looking to protect, improve, and add a little unique style to their dirt bike, our extensive Technical Accessories catalogue includes just about everything any rider might need, from upgraded brake and exhaust systems, through to triple clamps and wheels. We're also very proud of our GASGAS apparel, which delivers protection and comfort in style, and features clothing designed specifically for motocross riding with head-to-toe solutions for both kids and adults!
GASGAS EXPAND DIRT BIKE LINE-UP FOR 2022
THREE EXCITING NEW MOTOCROSS MODELS ADDED TO OUR AWESOME OFFROAD RANGE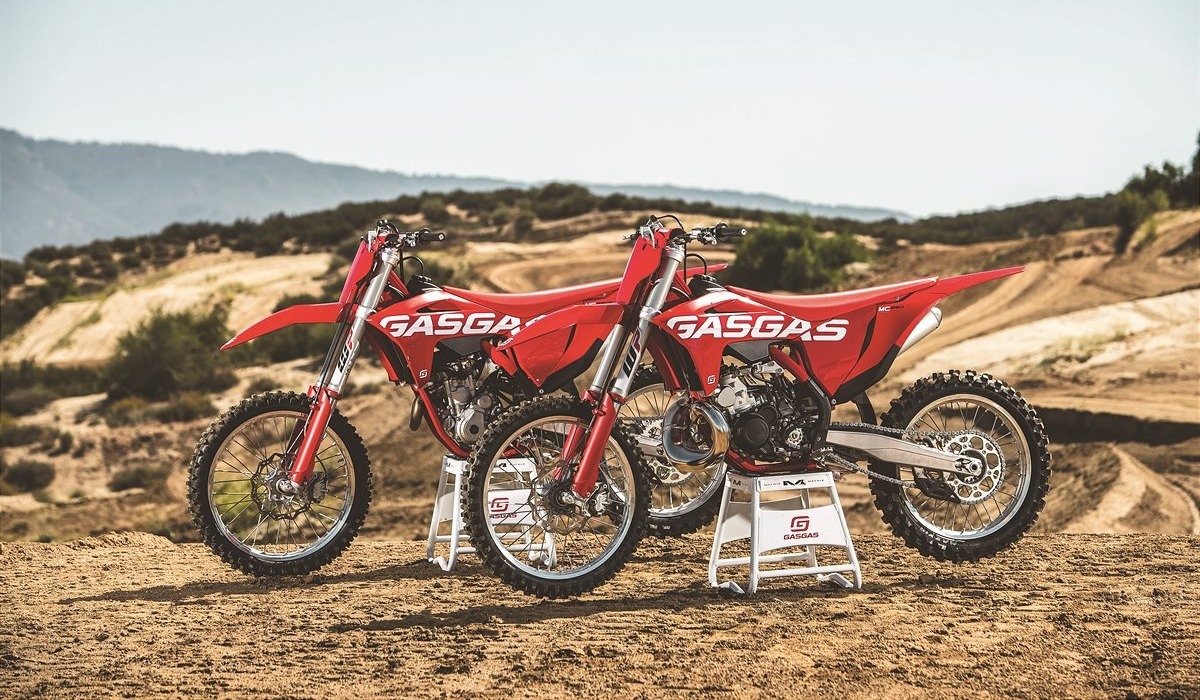 We've got new models for 2022, but our goal remains the same – to continue delivering performance offroad motorcycles for those who love to ride! We're super-proud of the bikes we launched just under a year ago, but we're going a little bigger for 2022, adding three new motocross machines to ensure we offer the most comprehensive dirt bike line-up there is! For kids, we've introduced a small wheel MC 85. For adults – the big kids – we've launched a new MC 250 2-stroke together with the MC 350F 4-stroke, strengthening our awesome range of dirt bikes. All new bikes will be available from October, all others are available now!
GASGAS unveil 13 performance motocross and enduro bikes for 2022
New motocross bikes bridge the gaps between models
Explore the full range now!
Giving the next generation of motocross stars a bike that bridges the gap between our MC 65 and MC 85, our new small wheel MC 85 is the perfect choice for mini racers working their way up the ranks. With a carefully designed chassis that accommodates its smaller wheels, the bike ensures uncompromised handling and performance, and is ready to shred with a simple prod of the kick starter.
We ticked all the boxes when it came to building what we believe is the ultimate 250cc 2-stroke motocross bike, our MC 250. With an engine that boasts tons of torque down low together with ample power up top, with WP XACT Suspension it soaks up bumps and jumps no matter how hard or fast a rider hits them. And let's not forget its mechanical simplicity and low running costs. Built for 2-stroke fans and unbelievably competitive in the hands of serious racers, everyone will enjoy an incredible experience on the MC 250.
Saving the best 'til last as some would say, our MC 350F is the third and final motocross bike we've added to our line-up. With strong, usable power and nimble handling, it's a bike designed for fun-filled weekends at the track with your buddies. The bike is super-lightweight and for those who dare to twist the throttle that little bit harder, it's fearlessly fast too!
New models aside, our 2022 dirt bike range is packed with seriously capable, seriously fun motocross and enduro models. With a total of nine amazing motocross bikes to choose from, when it comes to our enduro machines, we're sticking to the four models we know riders love and trust. Each delivering incredible performance and reliability, our enduro line-up includes all of the most popular displacements. Be it one of our 2-stroke or 4-stroke bikes, now is the time to get on a GASGAS and hit the trails.
To get the most from of our exciting line-up of offroad bikes, we also offer a full range of GASGAS Technical Accessories and Apparel. For those looking to protect, improve and customize their MC, or EC machines, our extensive catalogue of Technical Accessories includes just about everything needed, from wheels to exhaust systems, triple clamps to hand guards. Our collection of riding apparel delivers protection and comfort with style, and features clothing designed specifically for motocross and enduro with head-to-toe solutions for both kids and adults!
Almost all of our offroad range will be available now, while the MC 250, MC 350F and small wheel MC 85 will arrive shortly after in October.
Launching confidently into the 2022 season, Kawasaki will offer eight off-road machines across a range of sizes and disciplines from first two-wheeler and junior MX machines all the way to MX2 and MXGP class machines plus two enduro/trail specified mounts.
Entry point into the addictive world of off-road riding remains covered with the compact four stroke KLX110 with its semi-auto gearbox, kick and electric start systems plus tutor friendly adjustable throttle stop. For those seeking their very first taste of competition, the KX65 provides a sturdy, easy to maintain and thoroughly competitive place in the Kawasaki pack with the venerable KX85 on the near horizon as "next bike" for many young and fast-growing riders.
Both the KX85 small wheel and big wheel models benefited recently from upgrades chief amongst which are redesigned radiator shrouds creating a distinct synergy with adult KX models delivering increased cooling air flow to the radiator of the water-cooled two-stroke paddock favourite.
Moving up the range, there are two quarter litre offerings, one the KX250X enduro/trail machine with its refocussed suspension settings, bash plate, electric start and side stand that benefits greatly from its MX sibling, the KX250.
Inheriting much of its advanced specification from its larger capacity stablemate, the KX250 has a KX450 type frame and swinging arm, the same hydraulic clutch set up as the 450 and the useful integration of Ninja superbike technology thanks to finger followers in the valve train allowing more consistent high rev performance and an increased lift capacity for the camshafts.
At the top of the capacity scale, the green team will offer an impressive two machine range in 2022 with the KX450X and KX450. Offering an enduro/trail targeted machine in the KX450X and the race and championship winning potential of the awesome KX450, the complete eight model 2022 range has both breadth and depth and is sure to strike a chord with fans young and old, those new to the sport or engrossed in motocross: plus those obsessed with enduro and trail riding for weekend fun or full-on competition.
The KX65, KLX110, KX450 and KX450X will be arriving in the UK from June. The KX250X will be available in July, followed by the KX250 in August and the KX85 in October.
Full pricing is as below:
KX65 – £3,099KX85 / KX85 II – £4,049 / £4,149KLX110 – £2,349KX250 – £7,699KX450 – £7,999KX250X – £7,799KX450X – £8,199
GASGAS2022 TRIAL BIKES ARE HERE
TXT RACING AND TXT GPMODELS LAUNCHED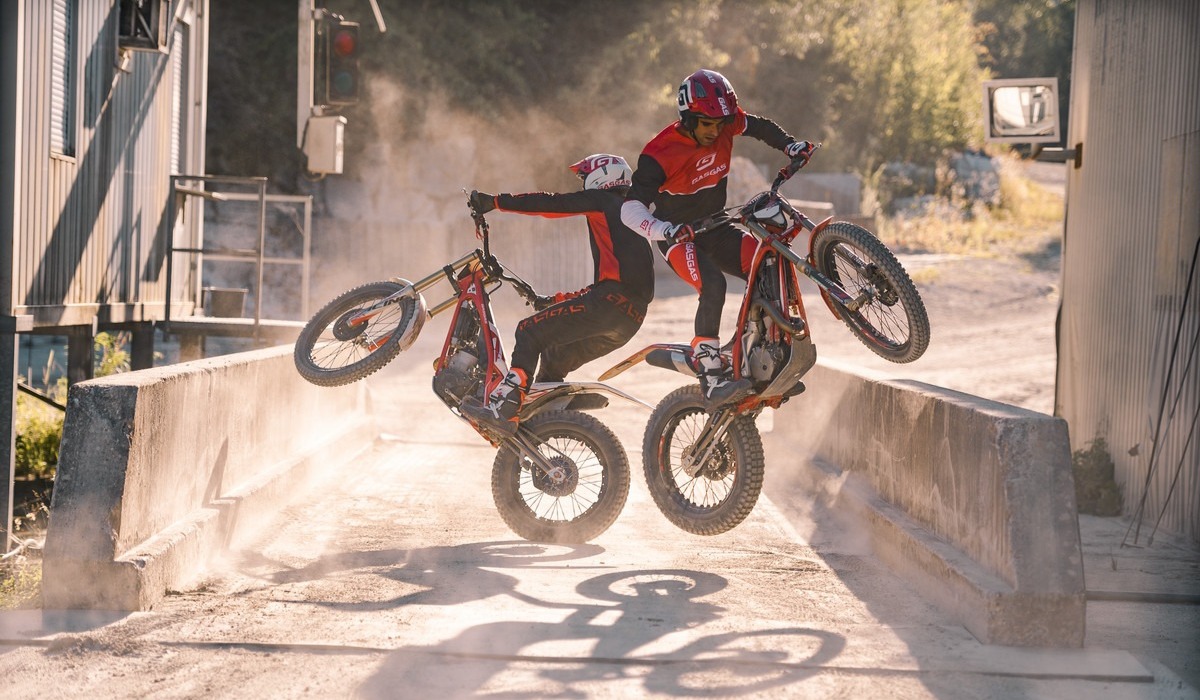 Renowned for their minimal weight, usability and high-performance, we're pleased to confirm the worldwide availability of our latest TXT RACING and TXT GP trial models. Continuing to deliver class-leading chassis performance and powerful, compact 2-stroke engines, for 2022 all eight of our trial bikes have been further refined to become Euro 5 compliant. Cleaner running and every bit as much fun to ride, all bikes continue to deliver smooth, controllable power across the entire rpm range… just the way riders like!
GASGAS TXT GP and TXT RACING models available now at dealers worldwide
All engines deliver smooth, controllable power while Euro 5 compliant
High-performance technical platforms set the standard for all GASGAS trial bikes
Assembled with passion and precision at our production facility in Girona, Spain, the 2022 TXT RACING and TXT GP trial ranges continue to set the standard for trial bike performance across the globe.
The TXT RACING range maintains its four classic capacities – 300cc, 280cc, 250cc, and 125cc. All models are powered by our super compact, high-performance 2-stroke engines, designed to deliver strong, torquey power that's perfect for scaling super-technical climbs.
Unrivalled handling is guaranteed on all of our trial bikes thanks to the smooth and progressive action of the class-leading suspension, working together with the lightweight steel frame to ensure precise rider feedback and complete control. With exceptional build quality, as well as class-leading innovations and pure, competitive styling and a compact, minimalist aesthetic, our TXT RACING trial bikes are incredibly versatile and offer unlimited capabilities.
Manufactured using the same proven platform and engine sizes as the TXT RACING range, our TXT GP bikes are competition-ready machines, refined and developed for serious competitors. With class-leading suspension, a carbon fiber airbox and premium components throughout, the TXT GP models are high-spec, high-performance bikes that ensure the most technical terrain can be mastered with ease. For 2022, a vibrant, GASGAS Factory Racing inspired look keeps the TXT GP range at the sharp end of the field.
Look on our new model page for more information.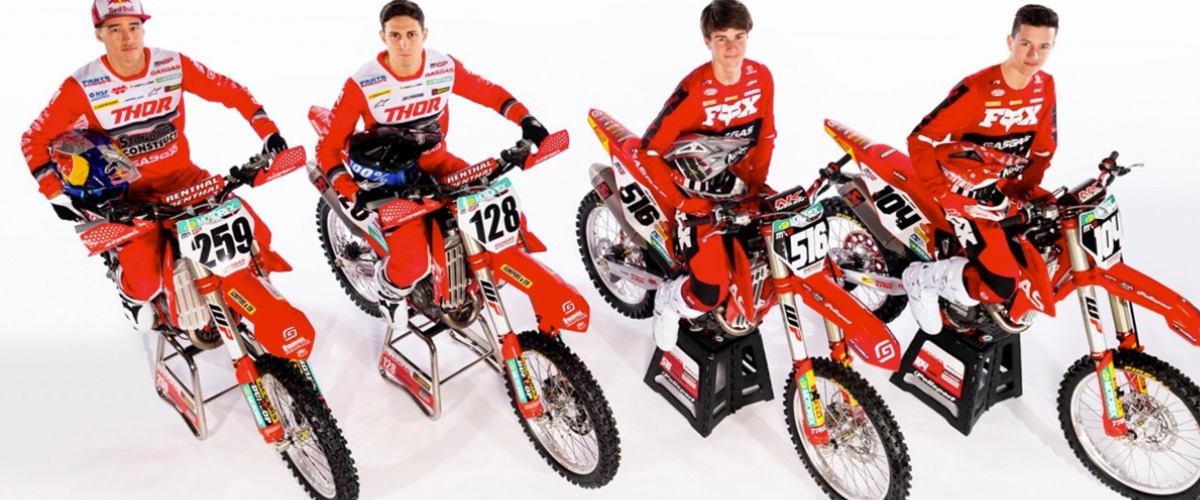 GASGAS Motorcycles take to the start of FIM Motocross World Championship
Historic new chapter begins as Standing Construct GASGAS Factory Racing and DIGA Procross GASGAS Factory Juniors contest the opening World Championship event of 2020
GASGAS Motorcycles will start an exciting new chapter in their offroad motorsport history this weekend as they step into the FIM Motocross World Championship for the first time. In what is a key moment for the brand as it expands to compete in top-level motocross alongside its trial, rally and planned enduro activities, the opening round of the MXGP and MX2 series will see GASGAS represented by Standing Construct GASGAS Factory Racing and DIGA Procross GASGAS Factory Juniors in the MXGP and MX2 classes respectively.
GASGAS Motorcycles start new motorsport chapter with MXGP entry
Standing Construct GASGAS Factory Racing spearhead MXGP effort
DIGA Procross GASGAS Factory Juniors set to do battle in MX2
Robert Jonas, VP Motorsports Offroad: "This is a very proud and important moment for all involved with GASGAS Motorcycles – the start of an exciting new chapter and the beginning of the brand's journey into top-level motocross racing. GASGAS has a rich heritage in offroad motorcycling, it's a brand that is about putting the fun back into riding, and together with Standing Construct GASGAS Factory Racing and DIGA Procross GASGAS Factory Juniors we have two established and passionate teams that perfectly fit what GASGAS is about. Like always, the first GP of every new season is a special moment, but we can say that for GASGAS this is also an historic moment. We know that all of our riders have prepared themselves with full commitment and we're looking forward to seeing how they perform this year. Matterley Basin, the British GP, is a milestone for GASGAS Motorcycles, a key moment as we start our push to establish the brand on a global scale."
Becoming a part of PIERER Mobility AG at the end of 2019, GASGAS Motorcycles will benefit from the groups shared-platform strategy, alongside other brands within the company. Faced with a minimal amount of time in which to be ready for the MXGP season opener, the specification of both the MC 250F and MC 450F machines used at Matterley Basin and throughout early-season GPs will evolve in-line with the arrival of the 2021 GASGAS Motorcycles production models.
Making GASGAS' presence felt in the MXGP class, Standing Construct GASGAS Factory Racing will lead the brand into premier class competition. Glenn Coldenhoff, who placed third in last year's series, comes into 2020 fit, healthy and looking to challenge for race wins. With impressive racing credentials, which include four overall GP wins and a pair of unbeaten performances at the two most recent editions of the Motocross of Nations, Coldenhoff begins the season in high spirits and as GASGAS' MXGP team leader.
Ivo Monticelli completes Standing Construct GASGAS Factory Racing's MXGP line-up. Continuing with Standing Construct for a second season, Ivo will look to harness his attacking riding style and post consistent results for both GASGAS and himself. During 2019, Monticelli placed a career-best fifth overall at the MXGP of Trentino, highlighting just what the Italian is capable of.
GASGAS Motorcycles are represented in the MX2 class by the DIGA Procross GASGAS Factory Juniors team. Fielding a young pair of talented Germans – Jeremy Sydow and Simon Langenfelder – the squad and their riders are aiming for top-10 results in their first full season of world championship participation. Sydow placed sixth in the final EMX 250 championship standings in 2019 and raced one MX2 GP where he posted an impressive 13th overall.
Glenn Coldenhoff: "It's great to be a rider on a brand that is new to MXGP and to be a part of GASGAS's history is an amazing feeling. I'm looking forward to making some good results and I've been working really hard over the winter months. There are some expectations from the team and also from myself, but we are racing MXGP and the goal is to win, so hopefully we can make that happen."
Ivo Monticelli: "It's a new bike and a new project and I'm really happy with what the team and GASGAS have provided me with. I've had a great off-season and I've been preparing the best that I can to ensure that I'm ready for the season. I'm ready to get on the gas!"
Jeremy Sydow: "It's a really great opportunity for me to be a part of the DIGA Procross GASGAS Factory Juniors team. It will be my second year with this team and I'm really happy with my bike and appreciate the trust that they have in me. I can't wait to race this season and I'll be giving my best effort at all times to be the best rider that I can be."

Simon Langenfelder: "It's super-exciting to be racing a GASGAS this season. It will be my first full season in MX2, and I know that I have the bike and team to succeed. We've had a great winter preparation and I'm really happy with my bike so I'm looking forward to a great season ahead."