Kawasaki KX250XC 2023
£8,199.00
Model Description
Kawasaki KX250XC 2023
Based on the highly advanced Kawasaki KX250XC 2023, this cross-country motorcycle has received specific XC tuning that encompasses the engine, suspension, brakes, wheel size, gearing, enduro tyres, side stands, and skid plates, making the KX250XC more attractive for cross-country competitors.
Colour option - Lime Green
The championship-proven technology of KX™ race machines has now been tuned for off-road competition. Purposely designed to take on harsh off-road conditions, the Kawasaki KX™250XC motorcycle delivers the edge to ride ahead. No matter how technical the terrain, lead confidently on the Kawasaki KX250XC.
FEATURING:
UPDATED 249

cc

 ENGINE WITH ELECTRIC START
OFF-ROAD READY SUSPENSION
F21"/R18" WHEELS AND OFF-ROAD TIRES
SKID PLATE AND SIDE STAND
ADDITIONAL Kawasaki KX250XC FEATURES:
NEW increased engine performance across rev-range
NEW racer-friendly gearing
NEW wider footpeg design
REVISED Coned Disc-Spring Hydraulic Clutch
Kawasaki Launch Control Mode (KLCM)
Finger-follower valve actuation
Slim aluminum perimeter frame
Renthal

®

 Fatbar

®

 handlebar with 4-way adjustable mounts
Uni-Trak

®

 linkage system
ERGO-FIT

®

 adjustable components
Team Green

™

 Race Team contingency race rewards
Kawasaki KX250XC KX
™

 POWER

The Kawasaki KX250XC motorcycle features the same updated podium-ready engine as the legendary KX™250 motocross bike. This fuel-injected 249cc 4-stroke engine delivers high-revving performance to power past the competition. Engine maps are optimized for cross-country racing, delivering the ideal amount of useable power. An electric start makes starting the engine as easy as a push of a button. A coned disc-spring hydraulic clutch offers a direct feel, light lever action, and consistent performance.
Kawasaki KX250XC PERFORMANCE
Light and nimble handling come by way of a lean, lightweight chassis, the same one featured on the KX™250 motocross bike. Overall weight is kept low thanks to a well-balanced aluminum perimeter frame, which also allows for slim ergonomics. The high-performance, race-ready suspension has been optimized for cross-country racing, especially on aggressive trails. Large-diameter disc brakes deliver strong stopping power, offering a high level of control.
Kawasaki KX250XC CROSS-COUNTRY CAPABILITY
The
Kawasaki KX250XC
motorcycle is built to meet the tough demands of cross-country racing. Cross-country wheels (F21"/R18") are paired with soft-to-intermediate terrain Dunlop Geomax AT81 tires. A factory-style skid plate and a convenient side stand both come as standard equipment.
Kawasaki KX250XC ERGO-FIT
®

 ERGONOMICS

Slim ergonomics stem from a narrow frame and minimalist bodywork. To help facilitate the perfect fit, the KX™250XC motorcycle features new wider and repositioned footpegs and ERGO-FIT® adjustability. Four handlebar positions and two footpeg positions allow you to tailor the KX™250XC to your body size, riding style, and preference.
FINGER FOLLOWERS
The engine with finger-follower valve actuation boasts an increase in peak power of approximately 2.5 kW (3.4 PS) from the previous generation, while a flatter torque curve makes it easier to get on the gas.
Finger-follower valve actuation enables a higher rev limit and more aggressive cams for harder-hitting power.
FI CALIBRATION KIT
KX FI Calibration Kit features the handheld FI Calibration Controller, which enables expert riders to adjust engine characteristics to suit their preferences. This tool can be used without a PC, simply by plugging it into the engine's ECU.
ADJUSTABLE FOOTPEGS
Adjustable footpeg mountings enable riders to lower their footpeg position by 5 mm. In the bottom position, the centre of gravity is lowered as is the rider's eye line, providing both physical and psychological advantages.
COIL-SPRING FORK
Handling suspension duties up front is a Kashima coated high-performance Ø 49 mm inverted coil-spring fork by SHOWA. The large-diameter inner tubes (the same size as on our factory racers) enable the use of large damping pistons, delivering smooth action and firm damping.
WINNING ENGINE
Powerful, high-revving 249 cm3 liquid-cooled, 4-stroke Single with factory-racer engine tuning. Boasting an increase in peak power of approximately 2.4 kW (3.3 PS) and stronger high RPM performance.
The engine with finger-follower valve actuation boasts an increase in peak power of approximately 2.5 kW (3.4 PS) from the previous generation, while a flatter torque curve makes it easier to get on the gas.
Kawasaki motorcycles possess both power and grace so are often recognised as being different to other bikes. This results from certain guiding principles adopted at the design stage. Rideology is Kawasaki's rider-centric development philosophy focused on how the riding experience offered by a Kawasaki is crafted, ensuring that our machines are fun to ride and rewarding to control. This approach has been the force behind many of our legendary machines, and in our pursuit of all possibilities, it will continue to guide the future creation of Kawasaki motorcycles.
To compete, to race, to win - that is the ambition of every motocross rider, right up to those talented individuals who dominate their chosen racing class to reach the pinnacle of success.
SEO by WebsFlow.co.uk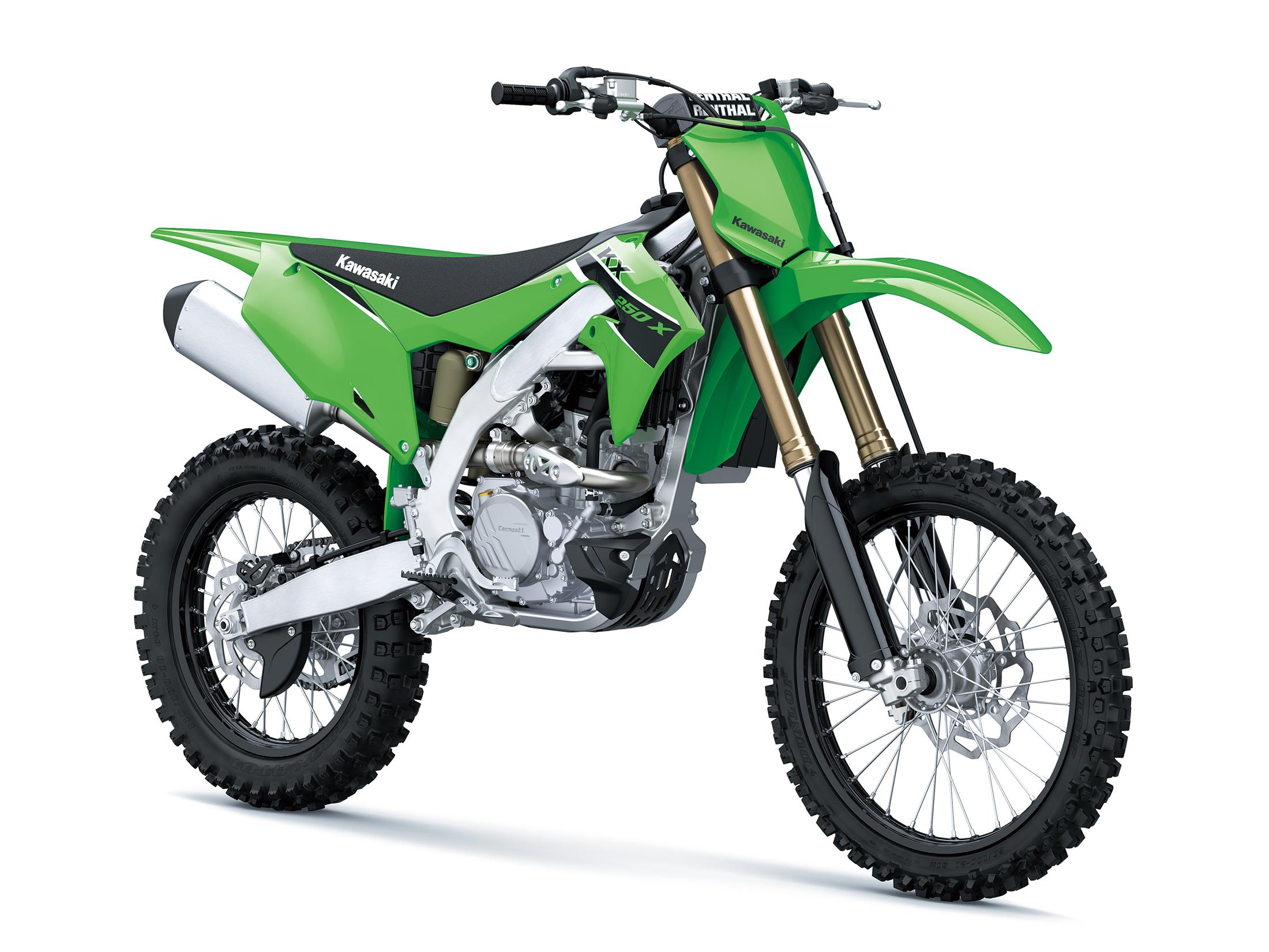 Brand Name
Product Name
Price
Product Availability